Credit:
Jimmy Westenberg / Android Authority
Google Photos may be one of the best online services for people who love taking lots of pictures and videos with their smartphones. It combines cloud-based storage with its AI-based organization of images and clips. With these features, it's a must for mobile photographers.
Read more: The best Google Photos alternatives
Let's take a quick look at how to get started using Google Photos, including a look at its major features, and some tips that should make using the service easier for you.
What is Google Photos?
Credit:
Jimmy Westenberg / Android Authority
The service officially launched in May 2015 as a standalone spin-off of sorts from Google+ Photos, which was based in the Google+ social network (Google would later retire Google+ Photos). It retained many of the features of the older Google+ Photos, as well as some new features.
The apps and the service were immediate hits with smartphone owners, hitting 500 million users by May 2017, two years after it launched. Those users upload 1.2 billion photos every day. In June 2017, the company announced Google Photos had reached over 1 billion app downloads.  In June 2020, the app got a redesign, along with a slightly different logo.
You can download the app on both Android and iOS, and you can also go to the photos.google.com site to view your stored images and clips on a PC or mobile web browser.
What's the difference between High Quality, Original Quality, and Express options in Google Photos?
Credit:
Jimmy Westenberg / Android Authority
The service has three storage settings to choose from, with some rather confusing labels. Let's go through all three now.
High Quality
The "High Quality" setting is actually the middle pick of the two modes. It allows you to back up photos from your smartphone up to 16MP each or video clips at up to 1080p resolution to your Google Photos cloud account. 
The following video formats are supported: mpg, .mod, .mmv, .tod, .wmv, .asf, .avi, .divx, .mov, .m4v, .3gp, .3g2, .mp4, .m2t, .m2ts, .mts, and .mkv. If you upload videos in other formats for High Quality, including the popular RAW format, they will be counted as part of your Google One storage limits.
For now, you can upload an unlimited number of photos in those supported formats in High Quality mode for free. However, that very nice Google Photos feature will soon go away. On June 1, 2021, any new High Quality photos that are uploaded via Google Photos will be counted as part of your 15GB free storage on Google One. Keep in mind that that's just for new photos uploaded on or after June 1. Any High Quality photos uploaded before that date will not be counted on your Google One storage limit.
Also starting on June 1, a new feature in Google Photos will be added. This will be a photos and video management tool that will point out any stored media you might want to get rid of. That might include photos that are too blurry or video clips that are just too large to keep in the new 15GB free limit. 
Original Quality
The "Original Quality" setting for the service is the highest pick of the three modes. It will preserve the original quality, megapixels, and resolution of any photo or video you upload, which sometimes exceed the limits of the High Quality setting. However, for most smartphones with Google Photos installed, there is an upper limit of cloud storage for the Original Quality setting. They will be stored on the user's Google One cloud account, and they will share storage space with the user's Google Drive documents and Gmail email messages.
The good news is there are a set of smartphones can get around the storage limitations of the Original Quality setting in the service.  If you still own the Pixel 2 or Pixel 2 XL, you can upload as many photos or videos you want at the Original Quality setting until the end of 2021. After that timeframe, any new photos or videos you take with those phones will be compressed down to the High Quality resolution and megapixels for storage. The Google Pixel 3 and Pixel 3 XL, have a similar deal for Google Photos in terms of storage. Owners can upload as many photos and videos at the Original Quality setting on the service for free until January 31, 2022. After that, any more photos and videos they upload will be converted down to the High Quality settings.
Credit:
Jimmy Westenberg / Android Authority
Owners of the most recent Google smartphones, including the Pixel 4, the Pixel 4XL, the Pixel 4a, and the Pixel 5, can no longer get free unlimited uploads of Original Quality photos. They will have to settle for free unlimited High Quality photo storage. Google will do away with all free photo storage for future Pixel phones, regardless of quality, starting in 2021.
Express
For people with a limited amount of data on their smartphone plans, particularly in developing countries and markets such as India, Google Photos added an Express backup option for some users. This will compress any photo down to just 3MP before it is uploaded to the service, and videos are also cut down to the standard 480p definition. The Google Photos app also recently added the option to cap the amount of mobile data used by the app. Users can limit it to 5MB, 10MB, or 30MB, or they can choose for the service to not use any mobile data at all when uploading content.
AI grouping of images into groups and albums
Google Photos also uses artificial intelligence and machine learning to identify items in your pictures. Those items can then be placed in their own groups and albums. If you take a lot of photos of your dog with your smartphone, the service will see it, then group all those dog photos into one album on your app or the Google Photos website. In fact, an update in 2017 added the ability to identify the specific dog in the pictures when uploaded.
When you tap on the albums section of the Google Photos app, it shows you three categories on top to search for the image you want to find: People, Places, and Things. The People category shows images of faces, and the Places category shows locations, based on both geotagging information and also identifying specific well-known landmarks in the photo. The Things category can not only show non-human subjects but also photos and videos that were taken for specific events, like birthdays or vacations.
Photo books support in Google Photos
If you see a group of images in Google Photos and want to bring them into the physical world, the service also lets you order Photo Books from your collected images. In fact, using AI, Google Photos arrange the book, adding the photos it think are best. Of course, you can still manually select which images go in the photo book as well. Pricing for these books begin at $9.99 and they can be ordered on the website and in the Google Photos apps.
Editing images in Google Photos
Google Photos also lets you edit your photos, either in the apps or on its website. There's an auto selection that allows the service to create what it believes is the best looking version of that photo, and a number of other filters you can select like Vista, which turns color images into black and white photos.
You can also manually adjust the light, color, and pop options on your images with sliders, and you can also change the aspect ratio and angles of your pictures within Google Photos as well. A more recent update lets the editor, via AI-based tools, suggest changes and edits that can be made with just one tap.
Read more: The best photo editor apps for Android
Recently, Google added some extra photo editing tools that were previously available just for owners of Pixel smartphones. They include Portrait Blur, Portrait Light, and Color Pop. The bad news is that you have to have a subscription to the Google One storage service to access these features for non-Pixel phones. 
Read more: Everything you need to know about Google One
Editing videos
Recently, the app added an all-new video editor. Not only can you crop or trim footage from your video clips, you can add filters as well. The app will also allow you to adjust your lighting and exposure. Finally, the app includes some machine learning-based features that should make a difference in your final video.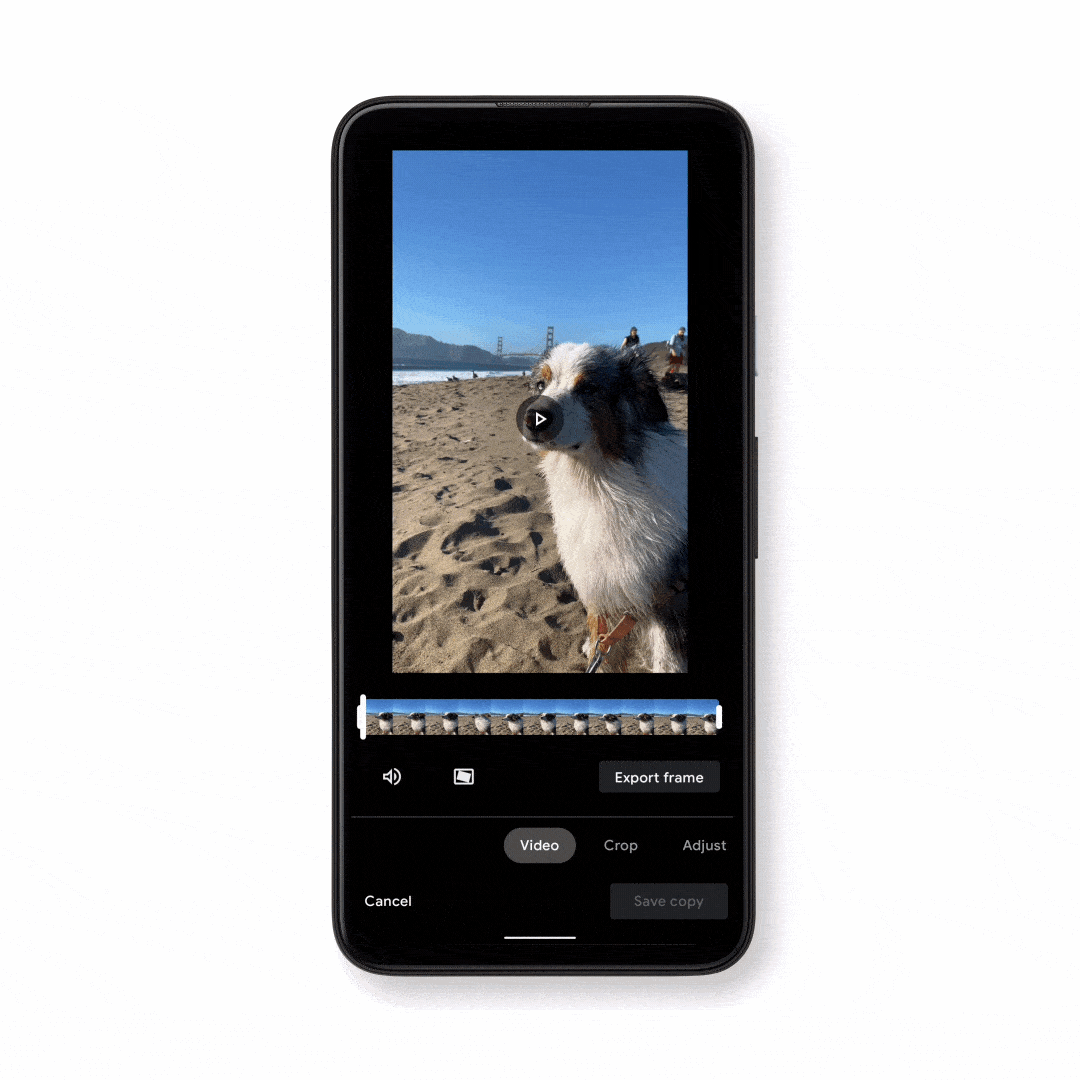 Sharing Google Photos content with others
Another nice thing about Google Photos is you can actually share images you upload with others, even if they don't have the Google Photos app. All you have to do is select a photo, video, or album, tap on the Share icon in the app and type in who you want to share an album with. You can also type in a phone number or email address. Then just type in a personal message if you want and then tap on Send. Shared albums can support up to 20,000 total items. You can also use the Share feature to upload photos and videos to your social networking accounts like Facebook and Twitter.
What is Google Photos Assistant?
Google Photos Assistant (not to be confused with the Google Assistant AI digital helper) is designed to help you keep track of your library of photos and videos. It will generate cards with suggestions on which photos can be turned into collages, animations, and movies. It will even use machine learning to show you pictures in your account that you might want to delete. Assistant will also offer notifications for alerts like if you are using up your storage space.
More tips and tricks
Here are some more tips and tricks you can try out while using Google Photos: