Update, October 4, 2018 (04:52PM EST): The Google Maps update described below is rolling out now to all users. It may be a few hours or even a few days before you see the changes, but they are coming! You'll know if you got the update if when you open Google Maps you see a "Commute" button on the bottom menu bar. If you see that, you're on the latest version!
Read more about what's included in this update below.
---
Original Article, October 1, 2018 (10:56AM EST): Today, on the Google blog, Google announced that it's bringing four new features to Google Maps, all centered on the idea of making your work commute more efficient, easier, and best of all — more fun!
The four new features are listed below and will start rolling out to both Android and iOS devices starting sometime this week.
Commute tab: Google Maps will get a new "Commute" tab that will merge together the "Driving" and "Transit" tabs. Using the Commute tab, you can tell Maps how you get to work each day, and then Maps will give you the most up-to-date traffic info to give you notice if you need to leave a bit earlier than usual. Check out the GIF of the new interface below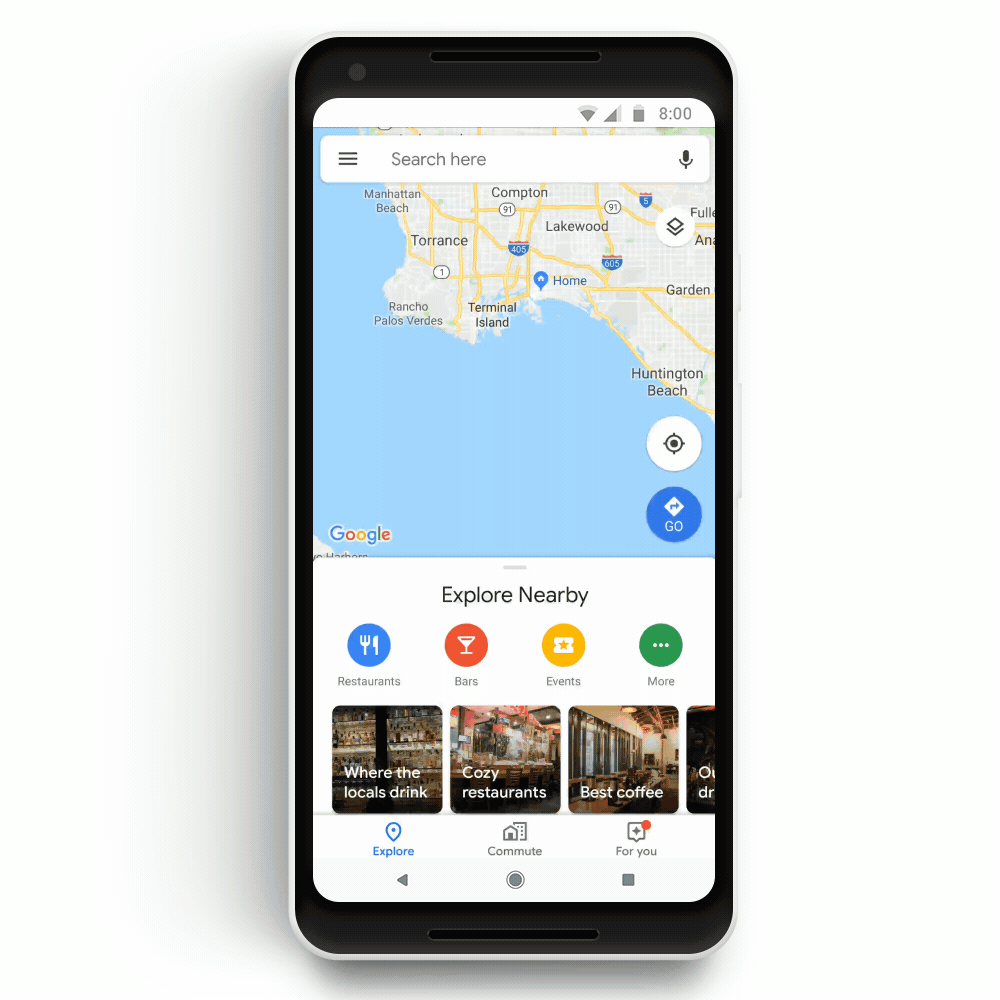 Mixed-mode commutes: Do you walk from your apartment to a subway stop? Or do you drive your car to a bus depot? If so, Google Maps will now help you commute using multiple modes of transport and give you helpful information about each leg of your trip.
Public transit info: If you rely a lot on public transport, Maps can now tell you if your train or bus is running late. In certain areas of the world — like Sydney, Australia — Maps can even tell you how full the bus or train is. This feature will be available this week for 80 regions around the world, with more to come soon.
Fast access to music: Most everyone listens to music or podcasts during their commute, and now it will be much easier to operate your music player during your trip. Maps will now integrate with Spotify, Apple Music, and Google Play Music, and show you a mini-player right within the Maps app itself. No more toggling between apps just to pause your tunes or skip to the next track!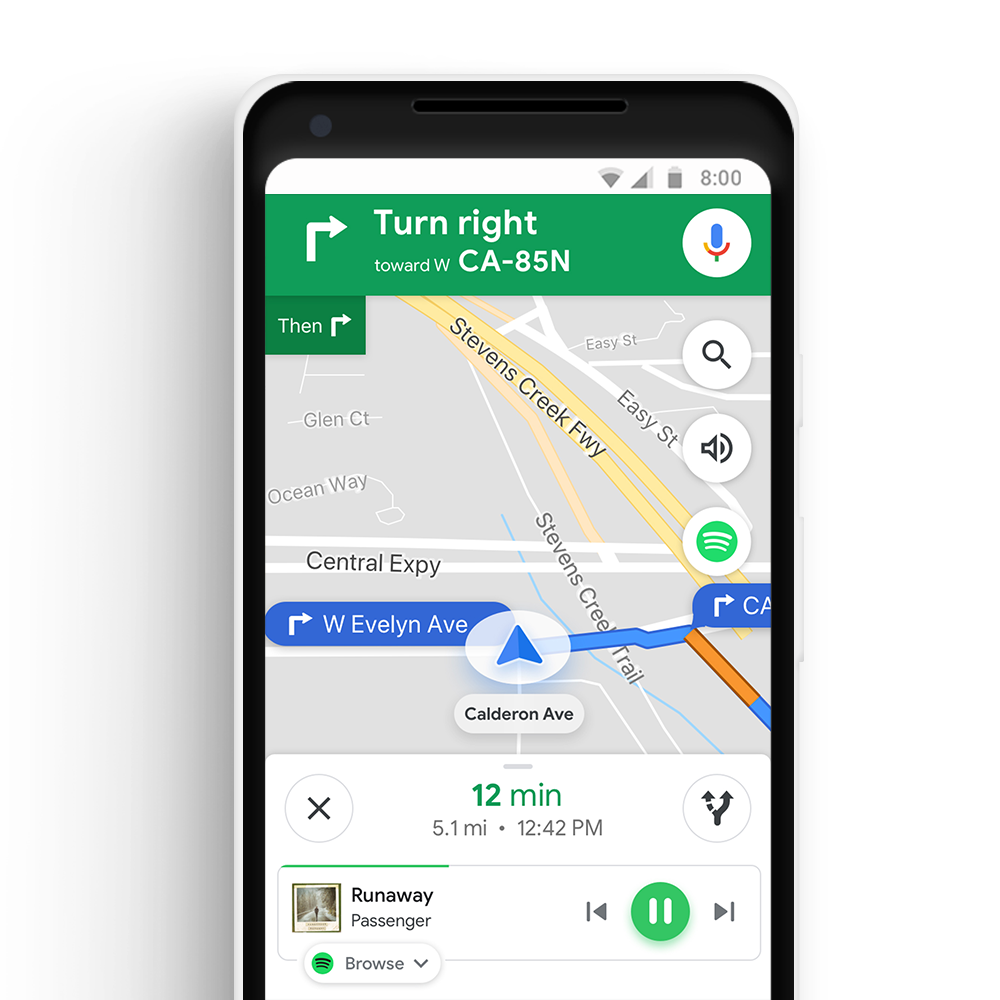 While Google Maps can't take away your daily commute, these new features will hopefully at least make your commute easier and more enjoyable.
Be on the lookout for the next update to Google Maps dropping sometime in the next few days!
Previous updates
New "For You" tab introduced to Google Maps
June 26, 2018: Google is updating Maps with a couple of new features that it hopes will encourage users to get out of the house and try new things. The first is an entirely new tab within the Google Maps app called "For You." Here, users will be shown recommendations of places and businesses in their area, especially those that are brand new or are trending based on Google's data. While the new tab in itself is a nice new feature if you're out of ideas for what to do one evening, Google has gone a step further and applied its machine learning smarts with a complimentary feature called "Your Match." Your Match gives users a percentage rating against For You recommendations based on their own personal data and what Google knows about the locations in your area.
Search for reviews right in the Google Maps app
May 29, 2018: For a lot of people, Yelp is the go-to site when searching for reviews of restaurants, local attractions, and service providers. But Google has its own robust reviews archive that is easily searchable within Google Search or even Google Assistant. However, searching for reviews within Google Maps for Android hasn't been possible; you would be notified about leaving a review after visiting an establishment, but finding existing reviews was difficult. That's why it's exciting that Google is now rolling out a Maps update that lets you search for reviews right in the app.
Google Maps' new Visual Positioning System fixes navigation
May 8, 2018: We've all had been delayed figuring out Google Maps Navigation before — "am I going the right direction?" Google Maps can now use your camera to identify your surroundings and visually communicate your route right in front of your eyes! Tap a button to activate visual view and then just point your camera where you need to go to see relevant info. You will see your surroundings with an overlay of Maps information for nearby business, arrows pointing you in the direction you need to go, with a small map at the bottom to remind you where you are headed.
Sadly, Google did not mention when these new Maps features would become available. We will be sure to update when we learn more.
Google Maps adds 39 new languages to text displays
March 28, 2018: Google will now attempt to broaden the reach of one of its most successful properties with 39 new languages just added to the Google Maps app. However, if you were looking forward to hearing turn-by-turn directions in Icelandic, it doesn't appear that the audible languages have expanded. Google doesn't explicitly say as such, but from the GIF it supplied in its press release on the matter, it appears the new languages are only for on-screen text, not voice.
Google Maps adding wheelchair-accessible routes for bus and train journeys
March 16, 2018: Google Maps has added a navigation filter for buses and trains that identifies the best route for users with mobility needs. "Wheelchair accessible" routes are now rolling out to five metropolitan cities with major transit links from around the world: Boston, London, Tokyo, Sydney, and Mexico City. As the name suggests, the feature is intended to help people who use wheelchairs, but Google is also aware that anyone with mobility issues – as well as families with baby strollers – could benefit from the wheelchair-friendly routes.
To activate the feature, all you have to do is head to Google Maps (on mobile or desktop) and input directions for public transport like you normally would. Then, before selecting a route hit the "Options" menu and change the tick to "Wheelchair accessible" under the preferred route column.