Affiliate links on Android Authority may earn us a commission. Learn more.
Google Maps now shows Lime bikes and scooters in over 80 new cities
If you're looking for a bike or scooter rental, Google Maps can help you with that.
If you've recently used Google Maps to get directions to a location a short distance away,you probably noticed the app conveniently gave you information about Lime scooter and bike rentals — if you happen to live in a small selection of cities. However, this list of cities just got expanded with more than 80 new locations.
Starting this week, if you live in one of the cities listed below, you might start seeing Lime vehicle information pop up in Google Maps. The notification will conveniently tell you if a Lime vehicle is available, how long it'll take to walk to the vehicle, an estimate of how much your ride could cost, along with your total journey time and ETA.
Check out the screenshot below to see how it looks: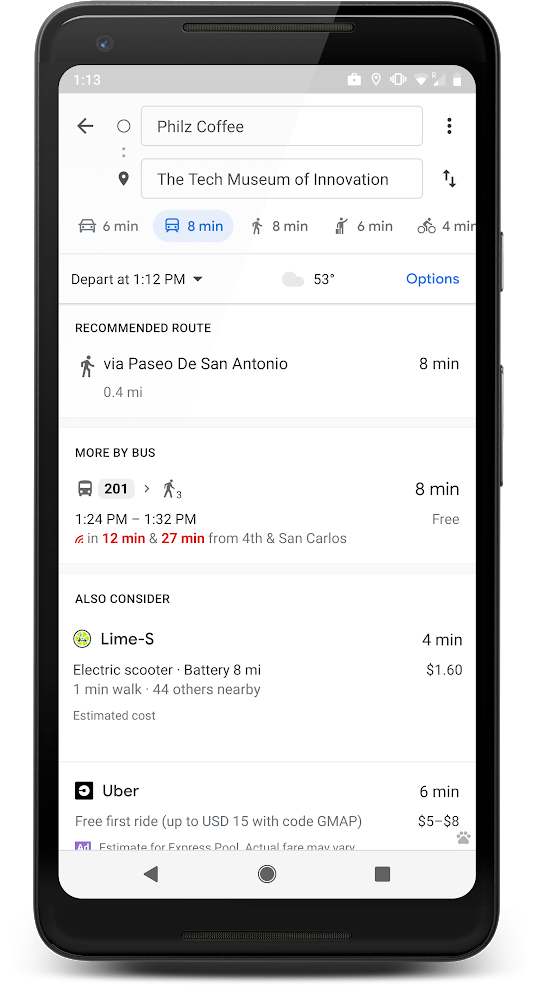 Lime is one of many companies that offers low-cost rentals of bicycles, e-bikes, scooters, and other personal modes of transport in major cities. Since using energy-efficient, carbon-neutral methods of transportation fits in nicely with Google's ethos, this Lime partnership makes perfect sense.
Here are the list of new cities:
United States:
Arizona (Mesa, Scottsdale), Arkansas (Little Rock), California (Monterey, Mountain View, San Marcos, Santa Barbara), Colorado (Denver), Florida (Miami, Orlando), Georgia (Atlanta, Statesboro), Idaho (Boise), Indiana (Bloomington, South Bend), Kentucky (Louisville), Massachusetts (Arlington, Bedford, Belmont, Chelsea, Everett, Malden, Medford, Melrose, Milton, Needham, Newton, Revere, Waltham, Watertown, Winthrop), Michigan (Lansing), Nevada (Reno), Missouri (St. Louis), New Jersey (Keyport, Metuchen, Plainsfield), New York (Ithaca, Queens, Rockaways), North Carolina (Charlotte, Charlottesville, Greensboro, Greenville, Jacksonville, Raleigh/Durham), Ohio (Columbus, Oxford), Oklahoma (Oklahoma City, Tulsa), Rhode Island (Providence), Tennessee (Memphis, Nashville), Texas (Corpus Christi, Lubbock), Utah (Salt Lake City), Virginia (Harrisonburg), Washington (Tacoma), Washington DC.
Worldwide
Brussels, Calgary, ChristChurch, London, Lyon, Madrid, Malaga, Malmö, Marseille, Mexico City, Milton Keynes, Oxford, Pamplona, Paris, Poznan, Stockholm, Sydney, Tel Aviv, Vienna, Warsaw, Wellington, Wroclaw, Zaragoza