Affiliate links on Android Authority may earn us a commission. Learn more.
Google Duplex is amazing, creepy, and too good to go to waste
Google Duplex was the biggest talking point from Google I/O 2018, and we've explored what it will mean, should Google actually release it into the wild.
Google Assistant making a call
I want Google Assistant to order all of my pizzas and Chinese food for me
As an AI assistant rang and conducted a smooth phone call to book a hairdressing appointment, the comments and emojis started.
When a male AI assistant voice managed to figure out tricky details from a restaurant booking, everyone went nuts.
Is Google Duplex creepy in an uncanny valley kind of way? Absolutely. Is it useful and amazing? Undoubtedly. An enthused Joe Hindy said, "I want Google Assistant to order all of my pizzas and Chinese food for me."
This is the kind of technology people will either want or do anything to avoid. It's undeniably awesome to have a call made for you to decipher details either not online or that need to be established over the phone, like reserving a table or getting an appointment. Of course, there's a pretty big privacy issue in there as well.
"A big part of getting things done is making a phone call," said Google CEO Sundar Pichai. Pichai said Google wants to "connect users to businesses in a good way." Up to 60 percent of businesses don't have an online booking system set-up.
Pichai didn't mention them, but a huge number of people just flatout don't want to make phone calls for a number of reasons. People who have no phone credit, or a disability, or issues like anxiety will find Google Duplex very convenient.
If Google Assistant can make calls in other languages, that changes the game for visitors, tourists, and immigrants, too. Even something as simple as trying to book a table can be a big problem in a foreign country where you don't speak the language. Imagine how it could help with something important, like trying to book an appointment with immigration services to establish yourself in the country. We don't yet know how far the technology has progressed in other languages, but imagine how much this could help you book a restaurant table or even call the police when vacationing abroad. Hopefully, Google Duplex will eventually be just as functional in Mandarin, French, Japanese, or whatever other language as it is in English.
Way more human than ever before
One of the most notable parts of the conversion came in between the AI assistant reading out its voice lines, when it added very intentionally styled human noises to the conversation. A blog post by Google made reference to the "hmm"s and "uh"s as speech disfluencies, which people use to gather their thoughts. It found including these little pauses made conversations a lot more "familiar and natural."
Read More: What can we expect from Google Duplex? – features and release date explained
Watch the video and listen again to the crowd when the hairdresser asked for a moment to look to find a free slot, and the Google Duplex Assistant said "Mm-hmm" to verbally acknowledge the wait. The crowd in attendance gasped, laughed, and hooted. It was totally unexpected from the AI and made feel way more real.
The second call featured a male voice prefacing a few statements with "Um," or saying "Next Wednesday, the, ah, seventh." The voice also elongated certain words, which is a very natural thing to do to reflect thinking or new understanding, and it's clearly something Google has worked on. The final statement we heard in the restaurant booking was the Assistant saying "Oh, I gotcha," but it actually sounded verbally more like "Ohhhh, I gotcha" to explain that "hey, it's all understood now."
The two example calls released by Google are no doubt some of the best experiences Google could find. In that second call, Pichai noted it was an example of a call that went differently than expected, and a perfect example of the seamless transition from the job of making a booking to understanding that bookings aren't required for smaller groups.
The system also understands a loss of sync during a call, being asked to hold, being asked to repeat itself if a number was missed, and how to elaborate to reduce confusion, with many examples of these issues also presented.
Is Google Duplex human enough to warrant new laws?
Google Duplex didn't pass the Turing Test in this demonstration, but it made people understand robots can make competent phone calls, at the minimum. That has lead to questions: will voice-calling bots, even for personal use, be required to identify themselves as a robot? A Google spokesperson headed that off yesterday, saying the company will voluntarily tell the person on the other end that a digital assistant is on the line. But ethical decided by one company is another company's free for all.
Robocalls are legal for personal use, for now
In current legal terms, the setup appears to be a robocall, which has some legal restrictions, mainly around not allowing businesses to annoy you with calls already. Homer Simpson's tele-panhandling scheme, ringing everyone in Springfield to explain that eternal happiness is one dollar away, is a classic example:
Using a robocall for direct personal use is in a different matter, and the calls Google released didn't say it was a digital assistant, which is interesting enough. The first call referenced making a haircut for a client, which makes an interaction much less intense and possibly negates problems with identification. The caller isn't expected to know as much, the receiver isn't going to ask for as many particulars — just perform the desired action. That's one way around it.
Bots calling bots
Perhaps it won't matter. If Google is able to demonstrate the hardest part of the interaction, it's not much of a further step to have a bot receiving the calls as well. If you've ever yelled "Operator!" at a customer service line, you'll know many companies already have a voice recognition service for common requests before handing you off to a (more expensive) human.
Getting to a stage where a bot calls a bot feels like we'd be missing the point, surely there'll be some sort of data transfer far more efficient than two bots imitating a phone call. We'll probably need a standard for that so a Googlebot can call an Alexabot and not get held up — although the odds on everyone agreeing to a nice open standard are pretty low — here's XKCD to explain: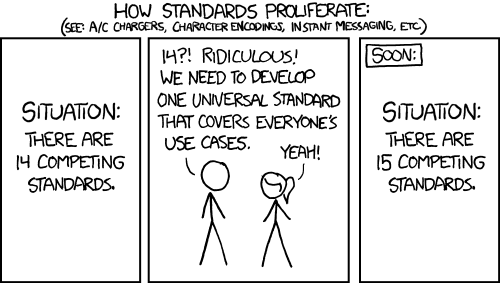 A point of difference or monetization?
How will Google make money from this? The company is an advertising specialist, but it's not totally clear how it will benefit from offering the service. Perhaps it will have a subscription model for Google Duplex, with an answering bot offered to businesses. It could free up staff and reduce costs, and Google could make a little money on the side for the convenience.
Google Duplex could just be free to everyone with a Google Home device or Google Assistant compatible device, aiming to boost its presence in the evolution of our home gadgets to an IoT household. Or, perhaps gathering information on which restaurants and hairdressers you frequent is valuable enough for advertising that it just makes good business sense to offer the service for free as well.
Training requirements?
Interestingly, Google decided to use your voice when placing calls, building on its WaveNet tech to train a new voice rapidly, rather than needing to say every word in a dictionary. It makes the learning process way faster, no longer requiring voice actors to spend weeks in a studio. It's not clear just how short the time is, but Google made the point that John Legend will be a voice option for Google Home, made possible through the reduction in raw audio required to something manageable by a busy R&B star.
Available soon?
Google can't release Google Duplex into the wild without a very high success rate, or it'll cause mayhem for businesses. CNET said Google is planning a limited launch this summer, and will "proceed with caution." Pichai also stated Google is in no rush to release the "developing" tech. In theory, it's too valuable to be announced at Google I/O and not be released at all, but it also wouldn't be the first time that happened.
Google stepped up and showed everyone how far they are ahead in AI
Google Duplex AI holding a conversation to manage a booking is great. It's clever machine learning and it's a kind of AI, but it's not real intelligence just yet. What we saw yesterday made people understand that Google's AI capabilities go far beyond the experience you get on your Google Home device, and far beyond what we've seen from anyone else in the industry, too. Don't expect your Assistant to seduce you just yet, but hopefully Google will release this before the next I/O.