Affiliate links on Android Authority may earn us a commission. Learn more.
Google Hotels expands vacation rental search, but still no Airbnb results
Google Hotels is becoming an even more powerful tool, but major providers are still missing.
The Google Hotels search function is a powerful tool for travelers, offering precise results for hotels, flights, and more from a variety of providers. Today, Google announced that it is adding even more features and providers to the service, specifically in the vacation rental properties category.
However, the most important provider — especially when it comes to something like vacation rentals — is still missing from Google Hotel search results: Airbnb.
The new vacation properties results in Google Hotels are available now on the mobile platform, accessible by visiting google.com/hotels on your mobile device. You can see a search in action in the GIF below: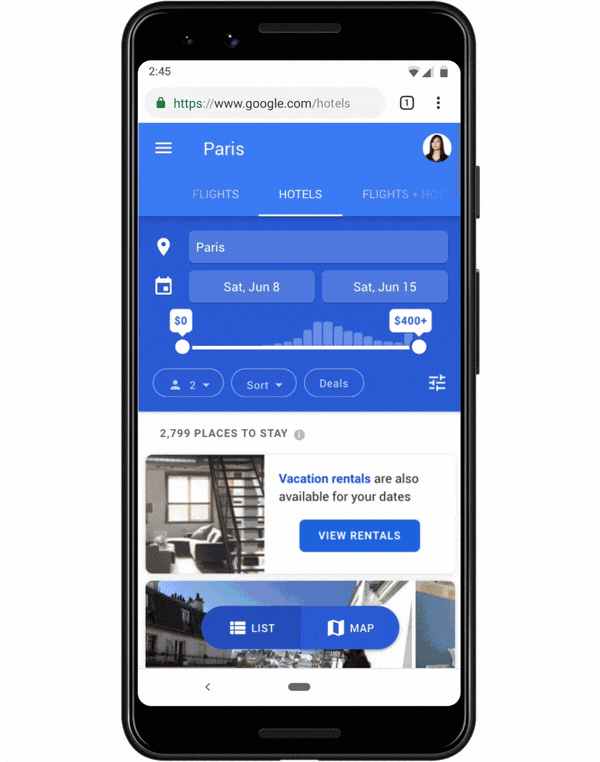 Google says the new vacation properties features will come "in the next month" to the desktop browser version of Google Hotels.
10 best travel apps for Android
App lists
You can see and book vacation rentals from a variety of partners including Expedia, HomeAway, Hotels.com, RedAwning, Rentals United, TripAdvisor, VRBO and more. However, Airbnb results still won't appear.
Google Hotels represents a bit of a threat to Airbnb — which has already completely disrupted the hotel industry — because it offers travelers precise search tools and simple booking functions all within Google itself. However, without Airbnb as a partner, many modern travelers (especially Millennials) will balk at their searches being limited only to hotels and vacation properties owned by major companies rather than by individuals.
Regardless, the new Google Hotels features are incredibly useful and functioned flawlessly in our tests. Give it a shot by clicking the button below on your mobile device: