Affiliate links on Android Authority may earn us a commission. Learn more.
Google makes it easier to plan your night at the movies
Google Search has been updated in the U.S. and India to make it easier to find movie showtimes and information.
TL;DR
Google Search now lets you filter movies by genre, ratings, and more.
The feature also lets you swipe through movies that fit your search and filters.
It's currently available in the U.S. and India.
If you depend on the Internet to search for movie times and reviews, Google has made that process more streamlined and granular through Search.
When you search for "showtimes" or "movies," you normally get sent to Google's Movies Showtimes screen. It shows you when and where the movie is or will be played. According to a recent Google blog post, the company has now added several drop-down filters at the top to further specify your search.
You can use these filters to filter movies by screen type (IMAX, 3D, etc.), genre, ratings, critic scores, language, and preferred theater chains. Critic scores include scores from IMDb, Metacritic, and Rotten Tomatoes.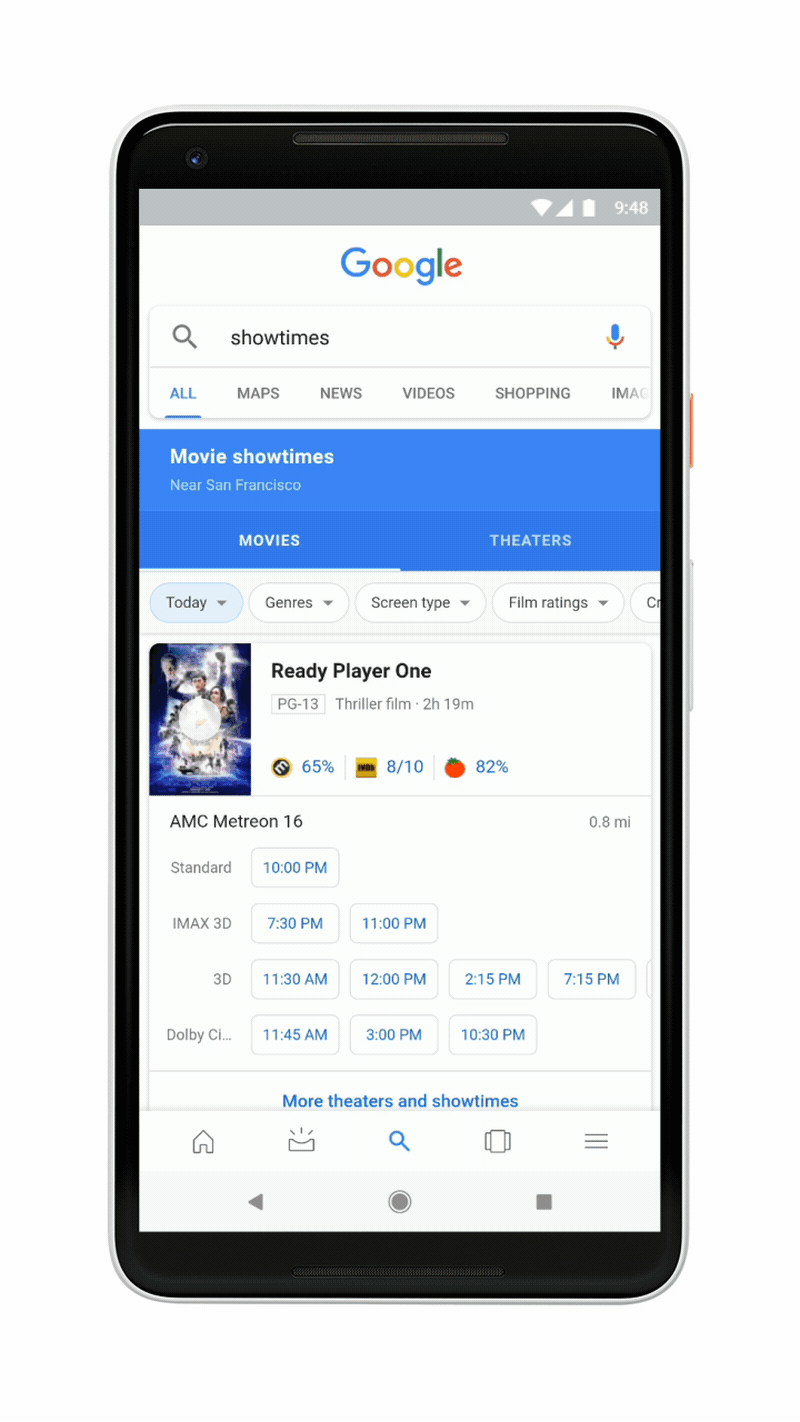 Movies show up as cards that can be swiped through if you are interested in more than one flick. You can also tap the Theaters tab to show you which cinemas are playing which movies that match your search criteria.
Once you are set on a movie, you can buy tickets through Fandango, MovieTickets.com, AMC Theatres, or Atom Tickets.
10 best video streaming apps and services for Android
App lists
The update is the latest in a string of updates from Google that focuses on entertainment. Most recently, the search giant added more audiobook features and allowed for more granular searches in its Play Movies & TV app.
Google said the new feature is now available in the U.S. and India in English and Hindi, on Google Search in mobile browsers and in the Google app for Android. The feature will eventually make its way to the Google app for iOS.