Affiliate links on Android Authority may earn us a commission. Learn more.
Google college search makes finding a good school (at the right price) easy
If you're looking at higher education, it can be overwhelming. Luckily, Google college search will help you get all the info you need.
TL;DR
Google college search enables you to find out necessary info about U.S. four-year schools.
Search results give you a wealth of information, like tuition costs, graduation rates, admission rates, and more.
The Google college search features are rolling out to mobile now, with desktop receiving some features as well.
Figuring out which college you should go to is a daunting task, but Google is rolling out some new search features today that will make your life much easier. The Google college search features will give you fast access to the necessary information you need to plan your higher education.
Announced today on Google's blog, the college search features give you a concise look at four-year colleges across the U.S. With only one search query, you can see basic information like the school's location and website, as well as more in-depth stats like the average cost of tuition after aid, the graduation rate, and the admission rate. Check it out below:
If you click the "More about cost, outcomes, and students" link, you're taken to a more in-depth page with incredible amounts of information on the college experience at that particular school. You can even see the typical annual income of the average person 10 years after graduation from the college and the average cost of tuition for various household incomes, like in the GIF below of my local university: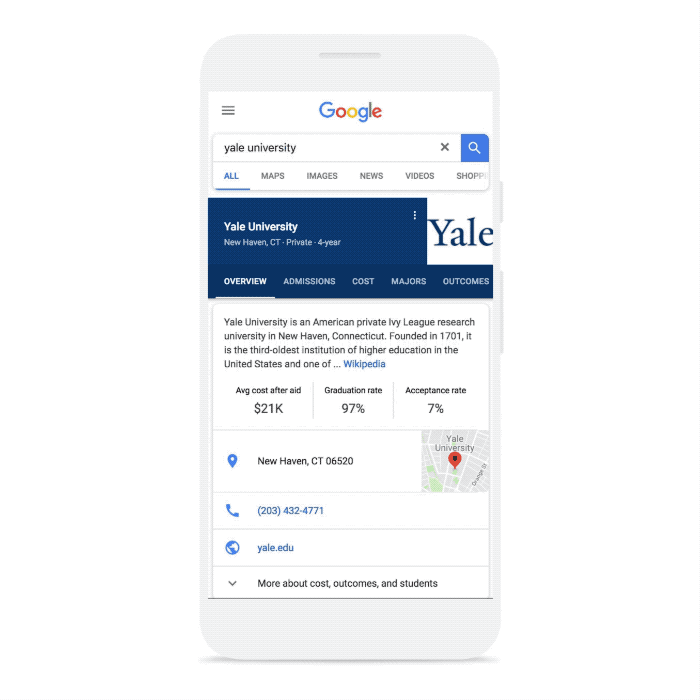 Best tech gifts for college students
News
Google claims that the information for each school comes from the U.S. Department of Education's College Scorecard and Integrated Postsecondary Education Data System (IPEDS), a comprehensive data set available for four-year colleges. The company also had assistance from education researchers and nonprofit organizations, high school counselors, and admissions professionals.