The Vivo Nex teardown from MyFixGuide revealed how the phone's pop-up selfie camera works.
The teardown also revealed how Vivo handled the fingerprint scanner, battery, and the substitute for a proper earpiece.
Overall, it does not seem that repairability would be very high.
---
The folks at MyFixGuide published its Vivo Nex teardown. Even though the smartphone is far from repair friendly, the teardown also showed how some of its standout hardware features work.
First up is the pop-up camera, which helps the Nex push the boundaries with a 91.24 percent screen-to-body ratio. What makes the magic happen is a spring-loaded motor that uses a silver spiral stepper to push the camera up.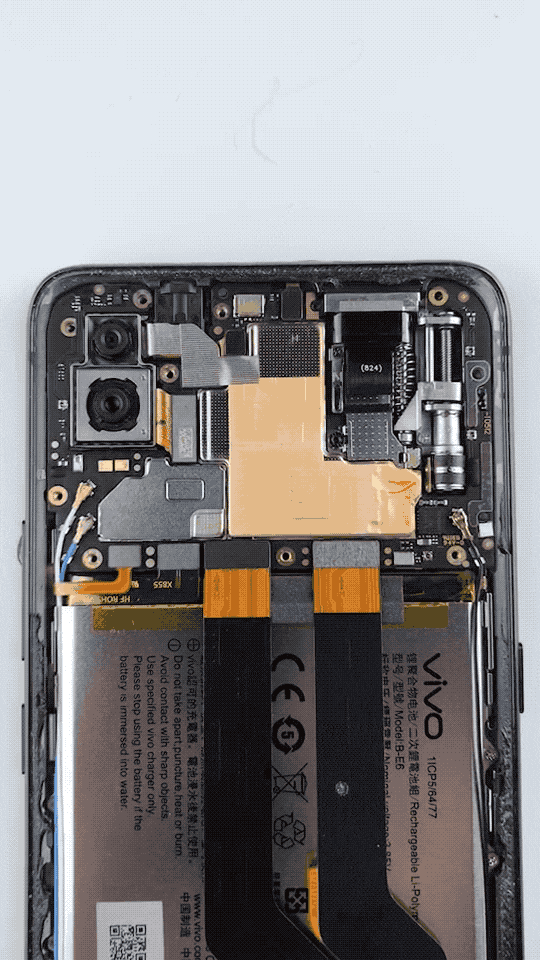 The system allows the selfie camera to freely move up and down in a consistent motion, which creates a mesmerizing visual. The intricate system also uses moving parts that are more prone to failure, however, which would force you to send the Nex back to Vivo if anything happened to it.
Vivo also removed the earpiece and replaced it with a vibration motor that helps project sound at the top of the display when you are on a phone call.
The vibration motor achieves the same end result that the Xiaomi Mi Mix's piezoelectric ceramic vibration achieves. The main difference, according to the teardown, is that the vibration motor helps the Nex pump out clearer and louder sound than the piezoelectric system. We will be sure to test this out in the full review.
Next up is the fingerprint reader, which sits under the display glass. Curiously, the fingerprint reader uses a special camera that detects your fingerprint through the OLED screen. This is different from the Vivo X21 UD's, though you will still experience a slight delay compared to a modern capacitive fingerprint reader.
Even the battery fits somewhat differently. Because the battery is fixed on a metal base, you must first remove six screws before you can remove it. As a small aside, the Nex features a 4,000mAh battery that supports Vivo's proprietary fast charge protocol.
As cool as all of this sounds and looks, repairability suffers as a result. Keep in mind that the Nex uses numerous unique components that are not generally available.
Also keep in mind how difficult it was to even get inside. MyFixGuide heated up the phone to melt the adhesive and used a suction tool to remove the back cover. Instead, they managed to loosen the display enough to lift it up. They then resorted to a knife to pry the back cover off.
Still, there is something to be said for seeing what the Nex looks like when it is taken apart. The phone really is a feat of design and engineering that helps it stand out in a field of notch-loving smartphones.