With Black Friday still more than a week away, I'm sure that most of you are not even considering purchasing anything new these days, be it a smartphone, a laptop or any kind of gadget or home appliance.
We all know what's in store for us next weekend, but T-Mobile is set to kick the holiday season shopping into gear earlier. As rumored, Magenta will hold a two-day sale this weekend, on the 16th and 17th, with a bunch of Samsung smartphones being offered for free.
Unfortunately, the newest high-end Sammy device to be launched on T-Mo, the GNote 2, is not part of the promotion, so all that's left to get is the Galaxy S3, Galaxy S Relay 4G, GS2, Galaxy S Blaze 4G, and Exhibit 4G.
Another downside of the promotion is that, while you'll end up paying nothing for all the phones listed above, the out-of-pocket cost can even reach $300. You'll get that money back courtesy of mail-in rebates, but technically the handhelds will require upfront payments from you and that's definitely a hassle.
On the flipside, the discounted phones won't only be available to new T-Mobile customers, but also to existing eligible ones on both Classic and Value Plans.
Besides the cream of the crop Galaxy S3, which is definitely the most attractive device part of this promotion, you might want to consider the Relay 4G deal, too. That's only been on the market for a couple of months and is one of the snappiest all-time sliders, so $200 upfront and a full mail-in rebate later on sounds like a pretty sweet offer.
Browse over T-Mobile's press release announcing the sale below and then let us know if anything in there sounds too good to say no to.
[press]
T-Mobile Gives Shoppers Opportunity to Beat the Holiday Rush With Special Offer
New Survey Says Nine-in-Ten Americans Find Winter Holiday Shopping Stressful, While 72 Percent Would Make a Sacrifice to Get a Good Deal
BELLEVUE, Wash. — Nov. 12, 2012 — Shift your holiday shopping into high gear with T-Mobile® this November and get ahead of the Black Friday rush. For two days only, Nov. 16– 17, customers can purchase a Samsung 4G smartphone, including the wildly popular Samsung Galaxy S® III, for free with qualifying plans.
A new survey1 by Kelton Research uncovered that holiday shoppers don't feel that Black Friday is worth their time, with 51 percent reporting that nothing could entice them to stand in line. Yet 72 percent responded that finding reasonable prices is most important to them when shopping during the winter holidays. This holiday season, T-Mobile is helping consumers combat the stress of Black Friday while they enjoy great value with its pre-holiday sale. For more information and an infographic on how consumers view holiday shopping, visithttp://t-mo.co/Us8jEv.
"If getting a great deal on your gift purchases is important, and you prefer to limit your time in holiday checkout lines, then this T-Mobile promotional offer could be for you," said Andrew Sherrard, senior vice president of marketing, T-Mobile USA. "We think this offer will be particularly attractive for families who would like every member to have a mobile device but don't think it fits their budget. This promotion will make it easier for consumers to join the smartphone revolution by making the best devices and data plans more affordable."
New and existing eligible customers can take advantage of this pre-holiday sale. Customers will receive their device for free, after a mail-in rebate card2, when they sign up for a new two-year contract on any qualifying unlimited Classic plan, or for a $0.00 down payment (after a mail-in rebate card) when signing up for a new two-year contract on a new qualifying Unlimited Value® plan with an Equipment Installment Plan (EIP).3
Consumers often worry about making the wrong device choice or paying too much for data. This holiday season, data-hungry smartphone customers can enjoy "Unlimited Cheer" with T-Mobile's Unlimited Nationwide 4G Data plan. Offering customers the ultimate worry-free experience, unlimited data plans feature no data caps, no speed limits and no overages on T-Mobile's network, as well as fast, dependable nationwide 4G coverage. For more details about T-Mobile's Unlimited Nationwide 4G Data plan, visithttp://www.T-Mobile.com/unlimited-data-plan.
The Samsung Galaxy S III is one of T-Mobile's fastest 4G (HSPA+ 42 technology) smartphones. With an intuitive design, the Galaxy S III enables customers to effortlessly share photos, videos and more to a compatible TV or other Galaxy S III devices. Featuring a beautiful 4.8-inch HD Super AMOLED® screen, the Galaxy S III packs a powerful entertainment experience, which allows customers to watch HD movies and TV shows, download apps, and securely browse the Web.
The following is a sample of device pricing and mail-in rebate amounts included in the Samsung pre-holiday 4G smartphone sale if well-qualified customers choose to sign up for a two-year Classic Plan™: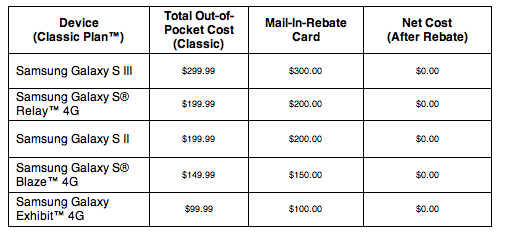 If well-qualified customers choose to sign up for an Unlimited Value™ plan, the following is a sample of device pricing and EIP monthly payments:

[/press]