Links on Android Authority may earn us a commission. Learn more.
T-Mobile and AT&T fight over upcoming spectrum auction rules
After pulling off nearly forty spectrum deals in the previous 12 months, AT&T's CFO John Stephens told investors that AT&T had enough spectrum to last the next five years.
In 2012, AT&T was desperately trying to convince the public and regulators that if they weren't allowed to buy T-Mobile, they'd face an absolute spectrum catastrophe, would be unable to deploy next-generation wireless services, and would have to scale back network investment substantially. A year later, AT&T had a change of heart. After pulling off nearly forty spectrum deals in the previous 12 months, AT&T's CFO John Stephens told investors that AT&T had enough spectrum to last the next five years. From CNET:
"We have a satisfactory spectrum position for the next five years," Stephens said during a presentation at a Morgan Stanley investor conference in San Francisco on Tuesday. "At the same time, we continue to encourage the government to make more spectrum available. And the reason is that it takes a long time to get spectrum to market. It's a constant process."
Basically, AT&T has admitted that they fabricated their own "spectrum crisis" but still want more from the government.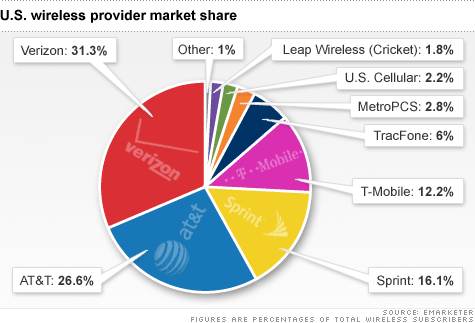 Now, T-Mobile is asking that next year's auction of 600 MHz broadcast spectrum have "set-asides," or portions of the spectrum that would be specifically set aside for smaller or new entrants. T-Mobile's basic argument is that AT&T and Verizon will run the table and buy all available spectrum. Back in April of 2013, the Department of Justice warned the FCC that they should potentially cap the amount of spectrum AT&T and Verizon can acquire moving forward to prevent the two companies from hoarding spectrum anti-competitively.
"Today, the two leading carriers have the vast majority of low-frequency spectrum, whereas the two other nationwide carriers have virtually none," wrote the DOJ. "This results in the two smaller nationwide carriers having a somewhat diminished ability to compete, particularly in rural areas where the cost to build out coverage is higher with high-frequency spectrum."
AT&T responded to the DOJ by claiming that it would be unlawful to stop them from hoarding the spectrum. Speaking of lawful, does AT&T really want to go down that path? AT&T has a long history of over-emphasizing capacity and spectrum constraints in order to get what they want from regulators and politicians. Capacity was the primary justification for the company's decision to impose overage penalties on DSL users, despite no evidence that their networks experience any actual congestion.
Verizon is on record saying they have so much spectrum that neither refarming 3G spectrum or Wi-Fi offloading are priorities for them. Responding to concerns by the DOJ that maybe AT&T and Verizon's spectrum buys moving forward should be capped so they can't hoard spectrum anti-competitively, Verizon CFO Fran Shammo today promised they'd certainly never consider such a thing:
"These rules could cause an auction to fail," warned Shammo on the call. Verizon shouldn't be penalized by spectrum rules, he said, because the operator isn't one to buy spectrum just to sit on it and keep competitors from using it, otherwise known as spectrum hoarding. "Verizon has never purchased spectrum to do that. We buy spectrum to use it," Shammo declared.
So, basically they want us to trust them. While AT&T and Verizon certainly need spectrum and there is an argument to be made about there being an inefficient use of existing spectrum, the argument that there is a crisis helps both companies buy as much as their bank accounts allow all the while reducing the chances of an actual competitive market.