Wikimedia Commons
It's that time of year where the major wireless providers cry to the US government about how their companies are doomed without additional spectrum being freed up. AT&T has a long history of over-emphasizing capacity and spectrum constraints in order to get what they want from regulators and politicians. Capacity was the primary justification for the company's decision to impose overage penalties on DSL users, despite absolutely no evidence those networks experience meaningful congestion.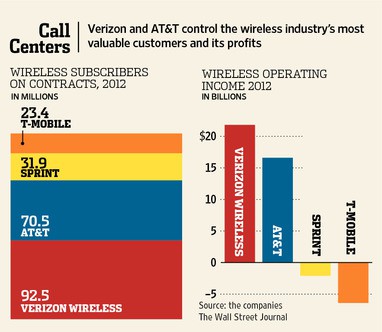 Spectrum capacity is also used as a bogeyman. While AT&T and Verizon certainly need spectrum, the pretense that there's a constant "crisis" helps both companies gobble up more than their fair share of this supposedly-publicly-owned resource, reducing competitive market threats. So the spectrum crisis has been solved — at least until AT&T once again needs to scare politicians and a gullible press into giving the company what it wants.
Last month, the major players in the United States wireless market went into the Dirksen Senate Office Building to cry spectrum poverty and the hundreds of billions of dollars that go with it. Verizon, AT&T and T-Mobile were out in force to advocate that the government should auction valuable airwaves that the wireless providers say they need to keep up with the exploding use of smartphones and tablet computers.
Jonathan Spalter, chairman of the Mobile Future coalition, testified in front of the Senate that the best way to ensure a successful auction is to allow all wireless companies to bid without restrictions on as many frequencies as they want. What Spalter didn't reveal is that Mobile Future is funded in part by wireless giants AT&T and Verizon, that Mobile Future didn't detail that relationship when it submitted three research papers to the Federal Communications Commission arguing against restricting how much spectrum a company can obtain in an auction and that Mobile Future didn't disclose that data from a research paper it used to create a graphic arguing against limits was commissioned by AT&T and filed with the FCC, which is writing rules for the auction.
$37 million spent on lobby in 2013
AT&T and Verizon Communications Inc. are two of the most effective lobbies in Washington, ranking among the top 20 spenders each year since 2003. They outspend their closest rivals T-Mobile USA Inc. and Sprint Corp. by millions of dollars. The four biggest carriers together spent $37.3 million in 2013 trying to influence lawmakers and the FCC on a host of policy issues.
AT&T and Verizon have spent at least twice as much more on behind-the-scenes influence campaigns: hiring Ivy-league academics, giving cash to think tanks, associations and universities, and employing public relations firms. Executives, lobbyists and hired experts from the nation's four biggest wireless carriers have visited the Federal Communications Commission almost every week during the past 16 months as the agency writes rules for the upcoming auction.
Wireless carriers have hired economists from some of the most prestigious universities to conduct research to support specific positions and attend FCC meetings where they can explain arcane auction theories and rebut other economists' papers filed by their rivals. AT&T has assembled the largest team of consultants and economists, most from top universities including Yale, Columbia, and the University of Pennsylvania.
The spectrum crunch that wasn't
During their bid to acquire T-Mobile in 2012, AT&T repeatedly insisted that there was a terrible spectrum crunch stirring, and they simply would not be able to deploy LTE nationally without consuming up a major competitor. Two years later and AT&T has completed more than 45 spectrum deals in two years, showing there's really nothing deep pockets can't fix. Speaking to analysts in 2013, AT&T's chief strategy officer John Stankey acknowledged that the company is well positioned on the spectrum front.
In April of 2012, wireless carriers, including Verizon, begged the government to give them more spectrum, claiming a coming shortage because of data-hungry cell-phone users and that in the next few years they may not have enough of it to meet the exploding demands for mobile data. Yet, soon after Verizon joined in the chorus of spectrum poverty, Verizon announced it would sell-off some of its spectrum.
Also, I found it rather humorous that several months after Verizon went to Congress in 2012 to demand more spectrum or else, they soon thereafter released a new app, Viewdini, an app that simply directed and encouraged users toward data-eating content on existing services ranging from Netflix to Hulu.